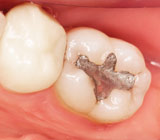 In modern times, metals have played an important role in tooth preservation and restoration. From the dental amalgam used for a century and a half to fill cavities to the titanium alloy of dental implants, your dental care would not be as comprehensive as it is today without them. But could these metals, so important in providing oral health, cause an allergic reaction in some people?
An allergy is an exaggerated response of the body's immune system to any substance (living or non-living) it identifies as a threat. The response could be as minor as a rash or as life-threatening as a systemic shut-down of the body's internal organs. An allergy can develop with anything, including metals, at any time.
A low percentage of the population has an allergy to one or more metals: some surveys indicate 17% of women and 3% of men are allergic to nickel, while even fewer are allergic to cobalt and chromium. Dermatitis patients seem to have a higher reaction rate, some allergic even to metals in jewelry or clothing that contact the skin.
Dental amalgam, an alloy made of various metals including mercury, has been used effectively since the mid-19th Century to fill cavities; even with today's tooth-colored resin materials, amalgam is still used for many back teeth fillings. Over its history there have been only rare reports of allergic reactions, mainly localized rashes or moderate inflammation.
The most recent metal to come under scrutiny is titanium used in dental implants. Not only is it highly biocompatible with the human body, but titanium's bone-loving (osteophilic) quality encourages bone growth around the implant's titanium post inserted into the jawbone, strengthening it over time. But does titanium pose an allergic threat for some people? One study reviewed the cases of 1,500 implant patients for any evidence of a titanium allergy. The study found a very low occurrence (0.6%) of reactions.
The conclusion, then, is that the use of metals, especially for dental implants, carries only a minimal risk for allergic reactions and none are life-threatening. The vast majority of dental patients can benefit from the use of these metals to improve their oral health without adverse reaction.
If you would like more information on metal allergies with dental materials, please contact us or schedule an appointment for a consultation. You can also learn more about this topic by reading the Dear Doctor magazine article "Metal Allergies to Dental Implants."